About ProKote Indy
We've been building street rods, competition engines, hot-rods, bikes, aircraft engines, and other scary things for a long, long time. Actually, it was our frustration with getting quality coating done for our own stuff that got us in this business in the first place! So we REALLY understand how important YOUR individual project is. Unlike production outfits, we actually ENJOY talking to customers! Call us today about your ideas.
read more
Why us
We are driven by quality, a burning love of all things performance, customer satisfaction, and a good sense of humor.
Your benefits
Thousands of powdercoat Colors
Centrally Located in Indiana for nationwide shipping ease
CermaKrome gives your parts superior corrosion protection...up to 10 years or more.
No more flaking, delaminating, rusting, or pitting.
What clients say
"I had a very specific color that I wanted to have powdercoated on my rotors. I had been to several other companies and then found Pro Kote. Not only did they create the color I needed but they did it in record time and the rotors look amazing. They are the only powdercoaters I trust with my projects."
Scott from Columbus
Read More
We are proud of our work!
We're a family operation here...no deadbeats just taking up space...well, Magoo, the shop dog, is the exception! Everyone else here is eager to take your call, question, or order. PRO-KOTE INDY is well aware of how confusing all this coating stuff can be, so don't hesitate to call.
Call us at 317-872-0001 TODAY!
Dragster Engine
Cruz Pedregon's Nitro Funny Car with Pro-Kote Header Coating.
Red Show Bike
A nice red show bike
Powdercoated Frame
Coated Wheel
Powder coating wheels is just one of our many specialties.
Engine Closeup
Orange Custom Bike
Colors, Colors, Colors

For some color ideas, click
HERE
to see an RAL Color chart showing some of the colors available to you. But remember... these are just a few of the thousands of choices available!
Video of process
COMING SOON!
The powdercoating process
PRO-KOTE INDY is a "custom powder coater", meaning that we specialize in individual projects and not as much on production work. Whereas many powder coaters offer a few colors, we have access to literally thousands of colors, textures, pearls, "flip-flops", candies, and much more. Need something unique for your special project? CALL US today. We'll work with you so you get exactly what you want!
Pricing and Pricing Examples
Pricing of items to be coated is difficult without knowing the condition and current finish of your part. Most coating processes are labor-intensive, involving cleaning, coating, high temperature curing, and polishing. Obviously, a part that is in good clean condition will require less work than an old pitted, rusty, painted piece.

As most pieces coming to us require some stripping, cleaning, and sandblasting for preparation, our APPROXIMATE pricing below reflects that. Items requiring less work will cost a little less; items requiring extensive reworking and extra time will cost a little more. In ANY event, you'll find our work excellent and VERY affordable, so we'll be happy to call you first with an exact price, once we've seen your part.

We invite you to call us first, describe your parts and coating needs. We can give you a really close estimate at that time.
Internal Engine Coatings

Piston (Dome & Skirt) $25 ea
Piston (Skirt or Dome only) $15
Plain Bearing Insert $8 pr.
Combustion Chamber (Thermal) $16 ea.
Powdercoating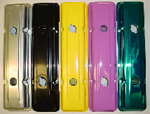 15-16" steel rims $65 ea.
17-19" alum. rims $85 ea.
V8 Intake Manifold $90 ea.
Valve Covers $60-80 pr.
Pulley $25
Rear Axle Housing $165 up
Full Size Bicycle Frame & Fork $120
Full Size Motorcycle Frame $175
Polished CermaKrome Pricing Examples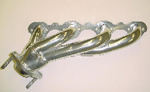 Full Length Headers SB $275 pr.
Full Length Headers BB $285 pr
Block Hugger Headers $150 pr.
Cobra/Corvette with side pipes $470 pr.
Zoomies $275 pr.
Import bike (4 into 1) $140-170
3-4" Pipe $27 ft.
Other Header Coatings Pricing Examples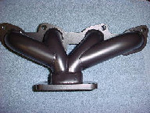 Grey factory Cast Manifolds $150 pr.
Turbo Housing (Turbo X) $55 up
Full Length Headers (Turbo X) $260 up
3-4" Pipe $22 ft.
So you want your "stuff" coated......
It's EASY -
1. Give us a call TODAY at 317-872-0001 to discuss your ideas for parts, coatings, color and texture choices. You'll find that we actually LIKE to talk to customers about their projects. We'll be HONEST with you, telling you what we can and can't do. We'll also be able to give you an accurate price quote at that time, and tell you what YOU can do to prepare the parts so that your cost will be even less.
2. Pack up your parts & Ship them to us. Use cardboard boxes and lots of crumpled newspaper (or foam "peanuts") to prevent damage to your parts during shipping. Ship to us any way you like...we recommend UPS Ground, FedEx Ground, etc. We use UPS Ground mostly for return shipping and try to stay away from the fairly slow US Postal Service.
Ship to:


Pro-Kote Indy

8813 Robbins Rd

Indianapolis, IN 46268
3. Receive your coated parts back from us, all coated real nice & pretty! And we'll have carefully packed and shipped them to you so they'll look great on your project!
CALL US TODAY 317-872-0001
CALL US TODAY!
(317) 872-0001
Check out what our clients are saying.....
"I had a very specific color that I wanted to have powdercoated on my rotors. I had been to several other companies and then found Pro Kote. Not only did they create the color I needed but they did it in record time and the rotors look amazing. They are the only powder coaters I trust with my projects."
Scott from Columbus