Internal Engine Coatings
The science and complexity of today's miracle coatings is probably beyond what could be explained in a website, let alone a small library. What is important to know is that there are significant performance gains to be made by using these coatings, and PRO-KOTE INDY can help you determine the right choice for your needs. These coatings are VERY affordable for the average street rodder or budget racer…they're not just for big-buck race teams anymore! Call us to discuss your engine build-up and how we can help you. We're day-to-day hot rodders and have been building engines and using coatings for many years.
The most popular coatings used for internal engine parts fall into the 3 categories explained below. This is the "short-list"…there are many more specialized coatings available for nearly any situation. Some coatings fall into more than one category.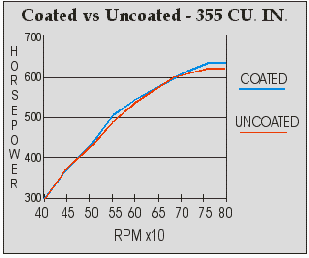 BENEFITS of COATINGS
*   Increases horsepower & torque
*   Increases lubrication protection
*   Reduces friction and wear
*   Reduces temperature of parts
*   Increases combustion chamber efficiency
*   Reduces detonation
*   Oxidizes fuel more efficiently
*   Helps carbon shedding
*   Keeps heat longer in combustion chamber
*   Disperses heat from critical parts
*   Reduces corrosion and damage to parts
*   Reduces fuel separation & drop-out
*   Increase port and exhaust gas velocity
*   Extend life of parts
Dry Film Lubricants
Dry Film Lubricants reduce friction, galling, and scuffing, thereby reducing temperature and increasing power. PRO-KOTE INDY applies and oven-cures the following coatings to your parts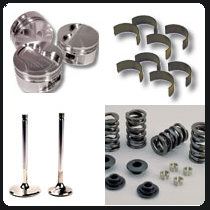 *   DFL-1…..The choice for main & rod bearings
*   CermaLube…..For piston skirts, cam lobes, and gears
*   TLML…..For valve springs and other flexing parts
*   TLMB…..For high loads, build-up of piston skirts
Thermal Barrier Coatings
Thermal barrier coatings reduce parts temperatures through the magic of Metallic Ceramics. These coatings will NOT affect any specified clearances.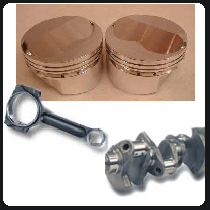 *   CBC2…..Piston heads
*   CBX…..For coating pistons in engines running  high compression, nitrous oxide, turbo or supercharging
*   TLLB…..An amazing lubricated thermal barrier  that SHEDS oil! Specifically used on bottoms of intake manifolds, windage  trays, crank scrapers, connecting rods,  and crankshaft throws.  Frees up lots of  power!
Thermal Dispersant Coatings
These coatings reduce temperatures by rapidly dispersing heat away from the component. They reduce "hot-spots" by distributing heat evenly, and aid in cooling heat sensitive parts. Again, PRO-KOTE INDY applies the films and carefully oven-cures your parts.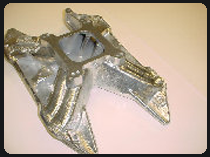 *   TLTD…..For intake manifolds, brake components,  oil pans
The coating designations DFL-1, CermaLube, TLML, TLMB, CBC2, CBX, TLLB, and TLTD are products and trade-names of TECH LINE COATINGS, INC.,
So you want your "Stuff" Coated?
It's EASY –
1. Give us a call TODAY at 317-872-0001 to discuss your ideas for parts, coatings, color and texture choices. You'll find that we actually LIKE to talk to customers about their projects. We'll be HONEST with you, telling you what we can and can't do. We'll also be able to give you an accurate price quote at that time, and tell you what YOU can do to prepare the parts so that your cost will be even less.
2. Pack up your parts & Ship them to us. Use cardboard boxes and lots of crumpled newspaper (or foam "peanuts") to prevent damage to your parts during shipping. Ship to us any way you like…we recommend UPS Ground, FedEx Ground, etc. We use UPS Ground mostly for return shipping and try to stay away from the fairly slow US Postal Service.
Ship to:

Pro-Kote Indy
8813 Robbins Rd
Indianapolis, IN 46268

3. Receive your coated parts back from us, all coated real nice & pretty! And we'll have carefully packed and shipped them to you so they'll look great on your project!
CALL US TODAY 
317-872-0001