PRO-KOTE INDY is a "custom powdercoater", meaning that we specialize in individual projects and not as much on production work. Whereas many powdercoaters offer a few colors, we have access to literally thousands of colors, textures, pearls, "flip-flops", candies, and much more. Need something unique for your special project?
CALL US today!
. We'll work with you so you get exactly what you want!
Colors, Colors and MORE Colors
For some color ideas, click the button to see an RAL Color chart showing some of the colors available to you. But remember… these are just a few of the thousands of choices available!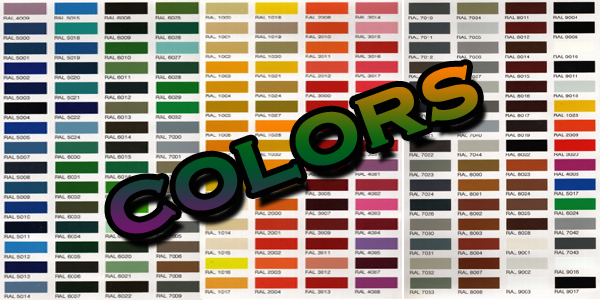 NITRO-KOTE
PRO-KOTE INDY's new powdercoating for serious racers. This stuff is unaffected by alcohol, nitromethane, gasoline, brake cleaner, and most other racing liquids and solvents.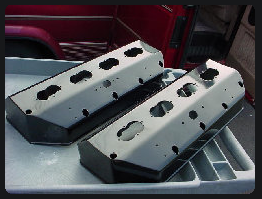 RACERS….This is the stuff you've been waiting for! NITRO-KOTE is a specially formulated powdercoating that is NOT affected by Nitromethane, Alcohol, Gasoline or Brake Parts Cleaner. We've been coating tons of pit equipment, valve covers, blower guards, wire hats, and fuel tank braces for many "super-star" teams (IRL, NHRA, Champ Series, Sprint, etc.) around Indianapolis. They swear by it…And only PRO-KOTE/INDY has it!! THIS STUFF IS TOUGH!!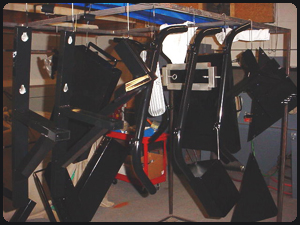 Available NOW in Black Gloss, Matte Black, or Matte White finishes. Other colors available…CALL US TODAY at (317) 872-0001
So you want your "Stuff" Coated?
It's EASY –
1. Give us a call TODAY at 317-872-0001 to discuss your ideas for parts, coatings, color and texture choices. You'll find that we actually LIKE to talk to customers about their projects. We'll be HONEST with you, telling you what we can and can't do. We'll also be able to give you an accurate price quote at that time, and tell you what YOU can do to prepare the parts so that your cost will be even less.
2. Pack up your parts & Ship them to us. Use cardboard boxes and lots of crumpled newspaper (or foam "peanuts") to prevent damage to your parts during shipping. Ship to us any way you like…we recommend UPS Ground, FedEx Ground, etc. We use UPS Ground mostly for return shipping and try to stay away from the fairly slow US Postal Service.
Ship to:

Pro-Kote Indy
8813 Robbins Rd
Indianapolis, IN 46268

3. Receive your coated parts back from us, all coated real nice & pretty! And we'll have carefully packed and shipped them to you so they'll look great on your project!
CALL US TODAY
317-872-0001
Check out some of our finished product images below